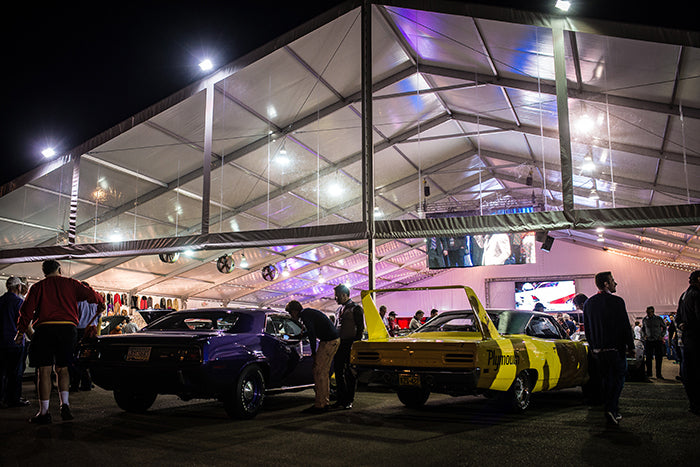 Photo courtesy of Russo and Steele
Since beginning operations in 2001, Russo and Steele has become a leader in the production of high-end collector car auctions. Their success stems largely from an innovative, visceral "auction-in-the-round" format that encourages prospective buyers to get close to classic cars...and to competing bidders. It doesn't hurt that they draw a consistent pool of excellent consignments with a special focus on European exotics and American muscle and street rods. Based in Scottsdale, Arizona, Russo and Steele's events include a hometown sale during that city's legendary January auction week, as well as auctions during Monterey Car Week and a spring event in the glitzy resort community of Newport Beach, California.
For 2018, Model Citizen is proud to be a part of Russo and Steele's Newport Beach event. We've been frequent visitors to this Orange County paradise over the years, and we know that their uniquely opulent car culture is the perfect setting for an auction like this. Approximately 400 full-size cars will be up for bid in Russo and Steele's arena, and for those with a taste in smaller vehicles, the Model Citizen booth will be stocked with a fitting selection of classic and exotic scale model cars.
Photo courtesy of Russo and Steele
Russo and Steele Newport Beach 2018 opens with a preview day on Thursday, June 7 from 9 a.m to 4 p.m. Sale days are Friday, June 8 through Sunday, June 10, with gates opening at 9 a.m. and auctions beginning at 11 a.m. It all takes place at Newport Dunes Resort, 1131 Back Bay Drive, Newport Beach, CA 92660. More information can be found at the event's website.

If you're planning a trip to Orange County for Russo and Steele, we hope you'll include a visit to the Model Citizen booth in your itinerary!