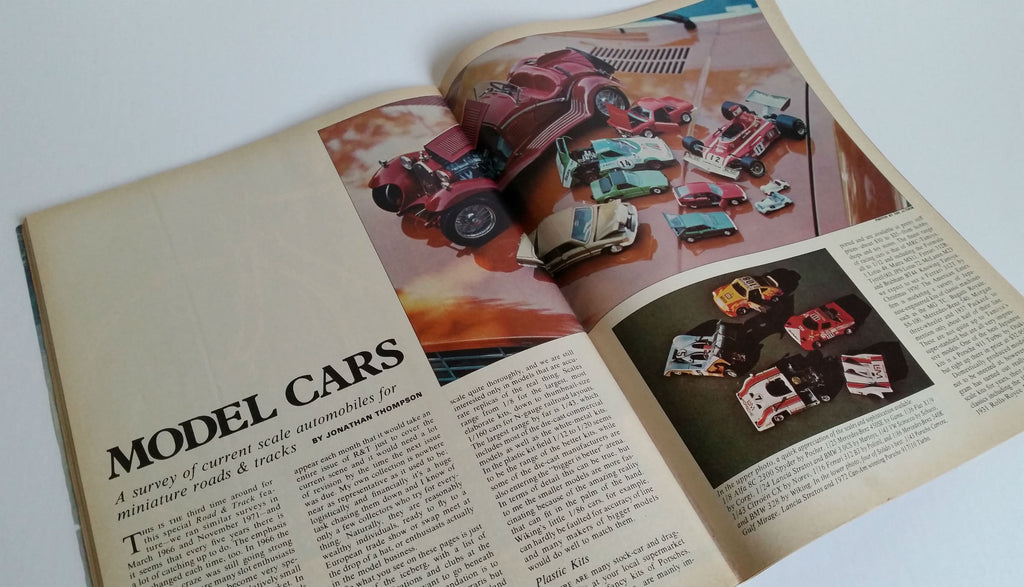 Sometimes it's hard for a car enthusiast to identify the thing in their past that set them on a course toward auto worship. Maybe it was a parent who passed the car gene on to a new generation, or maybe it was a random encounter with a cool ride outside the kindergarten classroom. The same goes for those of us who collect scale high-end model cars as a hobby. Most of us can tell you what it is about model cars that we find so attractive (for example, they let us build our dream garage without spending millions of dollars on the "real thing") but when it comes down to what drew our attention to the collecting hobby in the first place, frequently, we come up with a blank.
The 1976 "Model Cars" article that started it all.
 For collectors who grew up in the 1970s and 1980s, however, there is a possible Rosetta Stone, a document that holds the key to understanding how we came to know about the great 1:18 and 1:43-scale cars the world had to offer: Road & Track magazine's semi-regular series on model cars, "Cars In Scale." Previously, the venerable auto magazine had published broad overviews of the model car world on two occasions, once in 1966 and again in 1971. In May of 1976, R&T printed their third-ever model car round-up (titled, simply enough, "Model Cars.") This time, though, contributing editor and slot-car body designer Jonathan Thompson created the template for what would be a long-running series on high-quality scale models.
Three 1:43-scale kits from the 1976 "Model Cars" article, the piece that would evolve into the "Cars in Scale" series.
In that first 1976 piece, Thompson broke down the model car landscape into three distinct segments: plastic kits, metal kits and die-cast models. Given R&T's focus on European sporting and racing machinery, it's no surprise that their survey of plastic kits was dominated by Tamiya's 1:12-scale Formula 1 line, though lip-service was paid to Monogram's 1:24-scale classics. Turning to metal kits, it was all about 1:43-scale European imports from familiar names like AMR, John Day and Danhausen (the latter would later give birth to the Minichamps brand), as well as numerous other companies now lost to obscurity (ever hear of Hobby Technica?)
The first appearance of 1:18-scale Bburago models in "Cars in Scale," in April 1979.
R&T's attention to model cars must have struck a chord with its readers, as beginning in March 1977 "Cars in Scale" became a monthly column. Under Jonathan Thompson's stewardship, "Cars in Scale" would serve as a window into the world of premium model cars, not merely dealing with newly releases, but also giving valuable tips into how to collect models, from where to find them and how much to pay, to offering insight into what made particular models so attractive to car enthusiasts. Additional writers would soon join Thompson in generating content for "Cars in Scale," including Gene Parrill, founder of white-metal kit manufacturer Precision Miniatures.
A 1981 entry in the "Cars in Scale" series. Its days were numbered.
Sadly, "Cars in Scale" would not become a truly permanent fixture in the pages of Road and Track. After appearing monthly for most of 1978 and 1979, model car articles ran less frequently as the 1980s began. By the middle of the decade, it was unusual for "Cars In Scale" to run more than three or four time in a year, and by end of the '80s the column had disappeared entirely (just missing the rise in popularity of 1:18-scale cars in America).
Box Models' 1:43-scale 250GTO, a purchase inspired by "Cars in Scale."
Looking back at my own history as a model car collector, it occurs to me that at some point I must have been made aware that there were nicer diecast models in the world than the Matchbox and Hot Wheels littering my bedroom floor. As my childhood hometown had no specialty shops that would have carried quality 1:18 and 1:43-scale cars, where did I learn about them? Looking at my reading habits in the early 1980s, I can safely deduce that the answer is in the pages of Road & Track, and it's a pity that new media automotive outlets don't spend more pixels on the rich world of model cars...a new generation of collectors awaits.