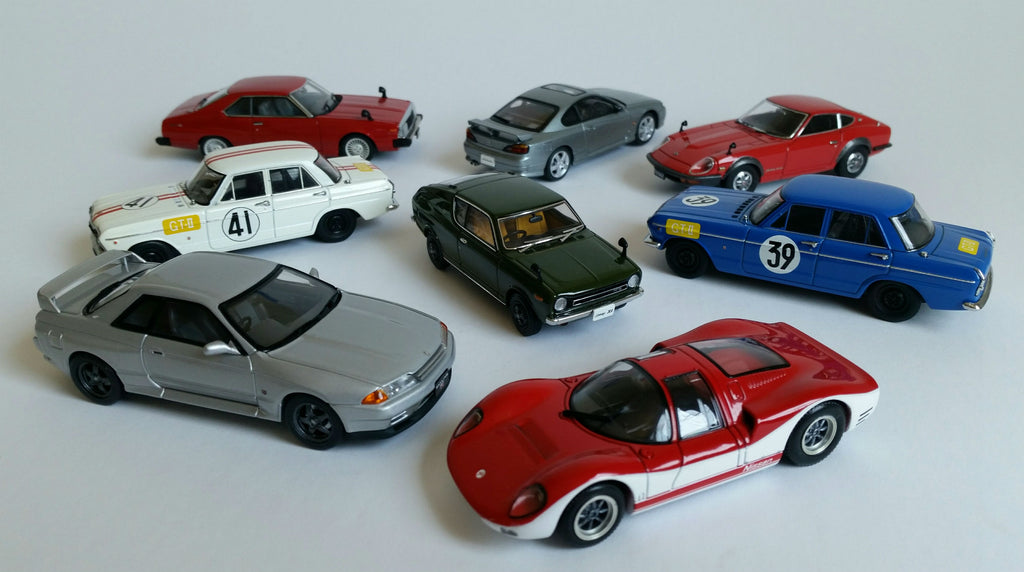 For the second consecutive year, El Segundo's Automobile Driving Museum is hosting an all-Japanese car show, newly re-named "JDM @ the ADM." With an expected field of over 100 cars, this show promises to offer a delightful cross-section of the various subsets of the Japanese collector car community, from pristine classics such as Datsun Fairlady Roadsters and first-generation Toyota Celicas, to home-built "drift missiles" and whimsical "itasha" customs.
In addition to the show cars, the Museum's full facility will be open for viewing, and its on-site old-fashioned soda fountain will be serving up sweet treats. For those with a more adult appetite, there will also be a beer garden in the Museum's special event hall.
Model Citizen will once again be on hand, presenting our selection of 1:18- and 1:43-scale Japanese classics (with a particular emphasis on diecast classic Nissans, like the offerings above from Ebbro). We will offer several models not yet available on our website, so please make certain to stop by our booth for a few surprises. We'll be inside, next to the beer garden...and beer and model cars sounds like a winning combination to us!
JDM @ the ADM takes place on Saturday, September 16, 2017 at the Automobile Driving Museum, 610 Lairport Street, El Segundo, CA 90245. Admission is $10, and includes entrance to both the car show and the museum. Show hours are 10 a.m. to 2 p.m. If you're in Southern California and want to experience one of the region's most exciting up-and-coming car shows, don't miss this one!
For more information, please visit the Automobile Driving Museum's event page.
Save
Save
Save
Save
Save